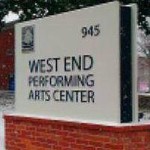 The Essential Theatre Play Festival takes place at the West End Performing Arts Center. Located at 945 Ralph David Abernathy Boulevard, it's easy to find, just ten minutes away from Little Five Points, two blocks off of I-20, and near the West End MARTA train station. For our mailing address or to otherwise contact us, Click Here.
Parking at West End Performing Arts Center
The handicap accessible entrance, as well as all handicap parking, is located directly behind the Performing Arts Center. We respectfully request that these spaces be left available for those requiring the use of these resources.
ADDITIONAL FREE PARKING is available at the Wells Fargo bank next door (at the intersection of Joseph E Lowery and Ralph David Abernathy Blvds) and behind the Ace Hardware across the street from the Performing Arts Center. Security will be provided on Friday and Saturday nights to patrol the area and escort patrons to and from their vehicles.
Dinner in West End

Here are some of our favorite places to eat in West End and nearby:
Walking Distance (less than 1/4 mile)
Prefer to just park once for dinner and the theatre? Check out these super-local eats:
640 West Community Cafe is an easy walk from the theatre and serves incredible sandwiches, wraps, salads and smoothies. Like many restaurants in West End, 640 West isn't open late, but it's worth coming to the theatre early to have a chance to stop by.
We recommend you call in your order if you want a sandwich, as meals are made fresh to order and can sometimes take awhile. But their baked goods are every bit as delicious as they look and are ready-made.
Tassili's Raw Reality isn't new to the neighborhood, but they've recently extended their hours so they are open for dinner before the show. Check them out for tasty, healthy fare and friendly neighborhood service.
Soul Vegetarian #1 closes by 10 but is great for vegetarian and vegan fare. By their own description, they offer a "Southern, meat-free menu (with gluten-free & vegan options) served in a casual storefront space." You don't have to be vegetarian to love it, either. Sporting a new juice bar menu too, Soul Vegetarian #1 is a great place for some preshow dining.  Affordable, really great, and super nice staff.
Walk or Drive (less than 1 mi)
If you're looking for someplace to go after the show, Lean Draft House is your closest and best bet. A craft taco and beer joint next to Gordon White Park, just about a 15 minute walk from the theatre. Open 5-11pm Tuesday through Saturday and 2-11 on Sunday, it's the perfect spot for a post-show drink and conversation. The outdoor seating is enviable, the tacos are delectable and the craft beer selection leaves absolutely nothing to be desired.
Q-Time – self-described "down-home Southern eats." Super friendly staff, and you will not leave hungry!
There is also a plethora of fast food nearby, to include a Dunkin' Donuts AND a Krispy Kreme — not so useful for supper maybe, but we've been starting early, so we can't complain!
A short drive:
To locals it's hardly news, but one of the best joints in town is The Beautiful. Food you couldn't cook better yourself, and both the staff and the patrons are incredibly friendly and welcoming! Known for their cobblers and their banana pudding, The Beautiful is open 7am-10pm and serves both breakfast and lunch. Pretty much everyone gets their food in to-go containers because it's so filling you won't eat it all and it's just too good to let a crumb go to waste. About a ten minute drive from the theatre, on Cascade Road.
The Smoke Ring is just a few minutes from the theater, and features excellent Georgia-style barbeque and lots of other innovative twists on classic southern cuisine. Upscale but incredibly comfortable and relaxed atmosphere. If you come here for dinner, you're sure to be back after the show!
The Legendary Paschal's Restaurant closes by 11 on the weekends, but it's a great place for some fine dining before the show. Enjoy some history, good food and a beautiful view before you head to the theatre!
Some places we haven't tried yet but that have been recommended to us:
Chantrelles is a little more upscale
West End Cafeteria, another cafeteria-style option that's closer than Q-Time
Yasin's Homestyle Seafood is a local favorite
Near The Beautiful, you'll also find Big Daddy's and J.R. Crickets. Both come recommended and are open before and after the shows.
And of course, Castleberry Hill is a five minute drive from West End, Little Five Points is less than ten minutes away, and there are a whole host of options in between.
Have a favorite dinner spot or hangout in the area that you don't see included in this list? Let us know and we'll be sure to recommend it here too!
What Audiences Have To Say:
"I really love the new space."
"Charming!"
"It was so easy to find."
"It's great to have free parking!"
"It's a great neighborhood that I was never familiar with before."
"I'm so glad we came. We can't wait to come back!"
West End Performing Arts Center: