---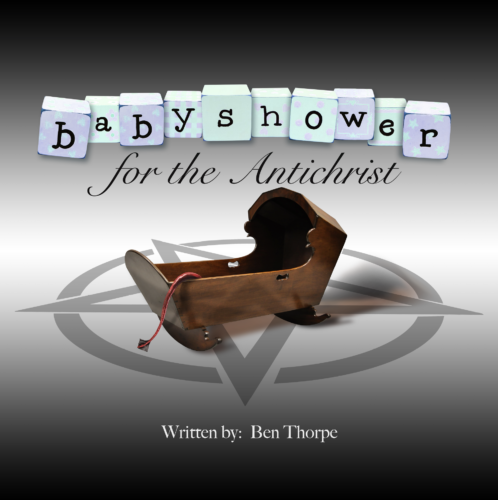 by Ben Thorpe, directed by Shannon Eubanks.
World premiere opens Friday, August 2, 2019.
A horror comedy about a small group of incompetent devil-worshippers who are preparing for the birth of the Dark Lord when an newcomer arrives, thinking she's been invited to an old friend's baby shower. Girl talk and plans for the "Hell Feast" lead to secrets coming out and a struggle for power, with surprising results. Plus, there's a talking goat … so that's pretty cool.
Advisory: This play contains moments of blood and violence.
PERFORMANCE SCHEDULE:
Aug 1 – Preview (8pm)
Aug. 2 – Opening Night (8pm)
Aug. 4 – Neighborhood Night (7pm, meet and greet with playwright Ben Thorpe)
Aug. 5 – Industry Night (8pm)
Aug. 8 – 8pm
Aug. 10 – 8pm
Aug. 11 – 2pm
Aug. 17 – 8pm
Aug. 18 – 7pm
Aug. 20 – Industry Night (8pm)
Aug. 22 – 8pm
Aug. 23 – 8pm
Aug. 25 – Closing Performance (2pm)
---
Cast:
Suzanne Roush as Reba
Gina Rickicki as Dee
Sarina Montgomery as Monica
Madison Welch as Julie
Taylor Bahin as Shelley

Artistic Team:
Playwright: Ben Thorpe
Director: Shannon Eubanks
Dramaturg: Maggie Higgenbothem
Stage Manager: Khadijah Ajee Gooden
Assistant Stage Manager: Micah Simon
Scenic Designer: Gabrielle S. Stephenson
Lighting Designer: Harley Gould
Lighting Intern: Maliya McCall
Sound Designer: Kacie Willis
Costume Designer: Alexia Mooney
Propsmaster: Kathy Manning
Props Assistant: Megan Cowgill
Effects Consultant: Sid Partain
---
What audiences are saying:
"I give this production ⭐️ ⭐️ ⭐️⭐️⭐️! Thoughtful writing, great acting."
"This play is weird and great and just what you need."
"What a ride. Great story, great casting and wonderfully acted."
"RUN…. don't walk to see this production!! Ben's writing is brilliant; coupled with strong cast and direction. Plus you're supporting a great initiative!"
In the Press:
'Babyshower For the Antichrist… deserves your attention, especially if your sense of humor falls on the dark side (Buffy and Preacher fans will be especially delighted.)' -Bradley Rudy. Atlanta Theatre Buzz
'Thorpe has written an excellent showcase for five very good actors—and happily, he has found them.' -Manning Harris, Atlanta Intown Paper